A Treasure Map is a special item that reveals where the player can dig to find buried treasure. Hovering over its icon in inventory shows a ~4x4 hex square with a red X. This square indicates the section of terrain on the current map that the player must travel to.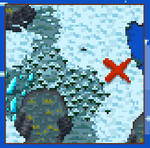 Treasure maps do not provide any kind of reveal or mark on the actual expedition map. The player must identify the X hex themselves, stand directly on it, and consume a shovel to discover the hidden treasure.
Each treasure map only applies to the current expedition and are only usable for one treasure item. Finding the treasure won't consume the map, and it can be traded for lower value at any trader. The player can even sell the map before finding the treasure and still dig up the loot afterward.
A treasure map does not count towards weight capacity and is removed after expedition.