Snarfrattle is a black hyena, which appears only if the player accepts the Kill Hyena quest offered by a vengeful one-armed hunter at the port.
In combat, Snarfrattle is accompanied by two or three normal hyenas who fight together against the player.
Snarfrattle uses three identical dice per combat turn: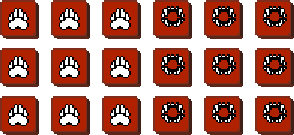 Tracking Notes
Edit
Like all enemies, Snarfrattle can be lost to environmental hazards on the map such as volcanoes, fires, and floods. If this happens, the Vengeful One-Arm Hunter's quest is impossible to complete.
Community content is available under
CC-BY-SA
unless otherwise noted.