| | | |
| --- | --- | --- |
| " | The mental state of your trek members. Drop to zero and more and more catastrophic events will begin to occur. | " |

Sanity represents your party's mental capability. It is the primary mechanic triggering both positive and negative events and depends on how full the sanity bar is at. The following table shows how sanity level influences possible events:
| Sanity Level | Events to Expect |
| --- | --- |
| 70+ | Mostly good |
| 30-70 | Neutral |
| 1-29 | Mostly bad |
| 0 | Very bad |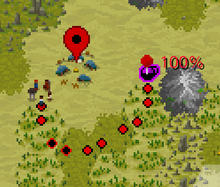 Events always happen when resting somewhere overnight, and occasionally during travel. Travelling at 0 sanity is very dangerous and is often interrupted with "insanity" events. These catastrophic events often include companion deaths and eventually the death of the explorer themselves, ending the game.
Each hex traveled on when hitting or dropping below 0 sanity has a 20% increased chance of insanity risk. This means it only takes 5 hexes of 0-sanity travel to guarantee an insanity event. If an insanity event occurs while moving, it will interrupt that travel leg, forcing the player to choose a new waypoint after the event. After an insanity event occurs, the player is given a 7-day travel cooldown with 0% insanity chance before the next catastrophe hits.
Sanity can only be increased in two ways: by using/consuming certain items, and by resting at certain locations. But beware: these methods may also have negative effects if used when sanity is low. Below 30 Sanity, some items will cause side-effects, and resting when below 30 Sanity will cause negative events that lower loyalty or even lose a companion. This table lists all possible sanity-increasing items and locations, along with their effects.
Community content is available under
CC-BY-SA
unless otherwise noted.