Gameplay
Edit

Roald Amundsen is an Arctic-focused explorer. His Arctic Explorer perk significantly lowers travel cost in snow, and he comes equipped with plenty of snowshoes and station tickets. His Animal Handler companion and capacity-carrying Huskies support a completionist strategy in gameplay. His huskies can even fight alongside him in combat.
Amundsen carries a shotgun, but his party doesn't have the red dice required for its combos. Consider acquiring a British or Scottish soldier for more effective combat.
How to Unlock
Edit
Roald Amundsen is available from the start of the game.
Historical Context
Edit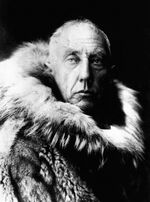 Roald Engelbregt Gravning Amundsen
(16 July 1872 – c. 18 June 1928) was a Norwegian polar region explorer during the Heroic Age of Antarctic Exploration. He led the Antarctic expedition of 1910–12 (the first to reach the South Pole) on 14 December 1911. In 1926, he was the first expedition leader for the air expedition to the North Pole.
Amundsen is recognized as the first person to reach both poles. He is also known as having the first expedition to traverse the Northwest Passage (1903–06) in the Arctic.
In June 1928, while taking part in a rescue mission for the airship Italia, the plane he was in disappeared.
Amundsen was added to the game with the "Arctic Expanse" 1.2.0 update on March 6th, 2017.
Community content is available under
CC-BY-SA
unless otherwise noted.