Raptors are large, fast combat animals. They act as both enemies and companions under different circumstances.
Enemy
[
]
Enemy Raptors are commonly found in all prehistoric worlds, but can also appear in desert, jungle and drylands environments at expedition 5 and 6. They appear alone or in groups of 2-3, have a high aggro chance and are as fast as any explorer. In packs of 3, Raptors represent a great threat to any experienced explorer, matching the damage of the Giant Crab at its most fearsome and boasting a total of 36 toughness, which is 11 greater than the crab.
Combat
[
]
Each raptor in the pack adds three attack dice in combat, which makes it capable of delivering a lot of damage very rapidly.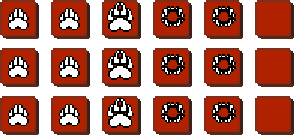 Companion
[
]
Raptor companions can be recruited from Lizard Villages in all Prehistoric worlds, as well as hatched from mysterious eggs found in raptor nests. They have triple benefit as a pack animal, combat aid and fast mount.
Stats
[
]
| lvl | Dice | Toughness |
| --- | --- | --- |
| 1 | (Only when mounted) | 12 |
| 2 | | 15 |
| 3 | | 18 |
| 4 | | |
Notes
[
]
Animal: Can only be promoted through Alexandra David-Neel's Animal Whisperer perk.
Fast Combat Mount: Can be ridden to reduce the base sanity cost of travel. When mounted, gains two additional level 2 combat dice and the Fast Mount perk at the cost of -1 total Cargo Capacity.

Combat dice given when mounting can not be used while over-encumbered.