Historical Context
Edit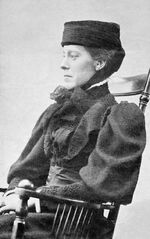 Mary Henrietta Kingsley
(12 October 1862 – 3 June 1900) was an English ethnographic and scientific writer and explorer whose travels throughout West Africa and resulting work helped shape European perceptions of African cultures and British imperialism.

Kingsley's Pacifist perk causes enemies' aggro chance to be lower. She cannot, however, use any weapons in combat, including dynamite or extra bullets.
How to Unlock
Edit
Reach the golden temple of world 3 (on any difficulty) to unlock this character.