Gameplay
Edit

Marcus Garvey
is a challenging
explorer
whose "
perk
" allows for an extra
companion
, but lowers max
sanity
. His party has well-balanced
combat
dice, but no reusable
weapon
. His companions support
village
interactions, but these opportunities are few and far-between. Any
strategy
the player uses with Garvey has to focus on his frequent need for
sanity
restoration.
Acquire plenty of sanity-restoring items (like chocolate, whisky or the tent) to keep the party going between resting locations. Consider acquiring a Missionary and Cook for sanity, and a hunting rifle for more effective combat.
How to Unlock
Edit
Complete the game in 3rd place or higher, and with two fully-promoted companions (on any difficulty).
Historical Context
Edit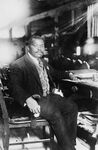 Marcus Mosiah Garvey, Jr.
, ONH (17 August 1887 – 10 June 1940), was a Jamaican political leader, publisher, journalist, entrepreneur, and orator who was a staunch proponent of the Black Nationalism and Pan-Africanism movements. He founded the Black Star Line, which promoted the return of the African diaspora to their ancestral lands.
Wikipedia
Community content is available under
CC-BY-SA
unless otherwise noted.