Historical Context
Edit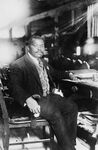 Marcus Mosiah Garvey, Jr.
, ONH (17 August 1887 – 10 June 1940), was a Jamaican political leader, publisher, journalist, entrepreneur, and orator who was a staunch proponent of the Black Nationalism and Pan-Africanism movements. He founded the Black Star Line, which promoted the return of the African diaspora to their ancestral lands.

How to Unlock
Edit
Finish the game (rank 3+) with two fully leveled up characters, on any difficulty.