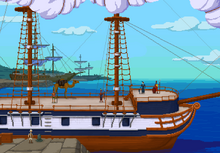 London is where the explorer returns after each expedition and prepares for the next. Several events happen here between expeditions:
The party will always leave London with full Health and Sanity, and any injuries or infected wounds will be healed. Temporary ailments will also expire before the next journey, but most ailments will stay with companions across expeditions unless cured.
Tips
[
]
Pay attention to your trophies' values: treasures don't usually have equal Fame and Funds value. Donate an item where its value can be maximized, boosting chances of ultimate victory.
Keep any Animal Teeth rather than donate them. Their weightlessness means they don't count towards your carry capacity, and their value makes them far more useful for trading during expeditions.
Funds can be saved and used in future trips back to London, so don't feel like you have to spend everything you have before setting sail again.
Make sure you set aside plenty of funds just in case an expensive item is available for purchase. The rarest and most valuable items are sometimes available here (such as a Camp Site, Signature Rifle and more) but since the offering is randomized with each visit to London, you'll only get one chance to buy what you see.