Harriet Tubman
is a unique
explorer
whose stats support a pacifist
strategy
. She comes equipped with an overwhelming amount of
climbing gear
and
fireworks
, both of which can be used to escape/avoid
enemies
. If
combat
becomes unavoidable, her party's well-rounded dice and
extra bullets
help ensure survival.
Tubman's visions help reveal distant locations, easing map exploration. However, this perk only works when starting a travel leg at high Sanity.
How to Unlock
Edit
Finish a single expedition (in Normal mode) with three natives in your trek. This means 3 out of the 4 possible companion slots need to be filled by a Shaman, Scout, Animal Handler, and/or Warrior.
Historical Context
Edit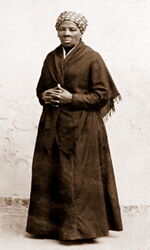 Harriet Tubman
(born Araminta Ross; c. 1822 – March 10, 1913) was an African-American abolitionist, humanitarian, and - during the American Civil War - a Union spy. Born into slavery, Tubman escaped and subsequently made some thirteen missions to rescue approximately seventy enslaved family and friends, using the network of antislavery activists and safe houses known as the Underground Railroad. Traveling by night and in extreme secrecy, Tubman (or "Moses", as she was called) "never lost a passenger". In the post-war era was an active participant in the struggle for women's suffrage.
She was a devout Christian and experienced strange visions and vivid dreams, which she ascribed to premonitions from God.
[
Wikipedia
]
Community content is available under
CC-BY-SA
unless otherwise noted.