Historical Context
Edit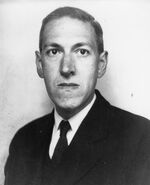 Howard Phillips Lovecraft
(August 20, 1890 – March 15, 1937) was an American author who achieved posthumous fame through his influential works of horror fiction. Virtually unknown and only published in pulp magazines before he died in poverty, he is now regarded as one of the most significant 20th-century authors in his genre.
Never able to support himself from earnings as author and editor, Lovecraft saw commercial success increasingly elude him in this latter period, partly because he lacked the confidence and drive to promote himself. He subsisted in progressively straitened circumstances in his last years; an inheritance was completely spent by the time he died at the age of 46.
Gameplay
Edit
While his maximum Sanity is only 70, his starting companions and pistol make for a great hunting party. Scottish Soldier's perk turns Whisky from strong to extremely potent source of sanity. Lovecraft is also the only explorer than can ever consider using Necronomicon safely thanks to greatly decreased costs of sanity.
During rest periods, there is a chance that Lovecraft will add the racist trait to other trek members.
If by any chance you will reach Golden Pyramid with at least 1 sanity left, feel free to use the Necronomicon - it will generate at least one spell.

How to Unlock
Edit
Use the Necronomicon (on Normal difficulty)
H.P. Lovecraft is one of the more recent characters to be introduced to the game. He was debuted October 29 of 2015, coinciding with that year's special Halloween update of The Curious Expedition.