The Giant Crab is an enemy beast found in Prehistoric worlds. It typically roams near a water source, or sometimes even guards a pyramid seal. It is an aggressive mob that can aggro, follow and surprise-attack an explorer who crosses its path. It is difficult for even the most experienced explorers to defeat, as its hard exoskeleton provides it with excellent protection. Luckily, it is a solitary creature.
It is by far the most dangerous enemy any expedition can face in combat.
A crab rolls a whopping 4 combat dice each turn.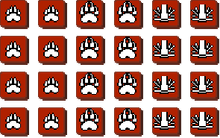 It is probably a reference to the giant crab which appears in the 1961's Mysterious Island movie, an adaptation from the novel of the same name written in 1874 by Jules Verne.