Freya Stark is a desert-focused explorer similar to Frederick Courtney Selous. Her starting companions and equipment makes for a great hunting-strategy party. Her primary perk gives no advantage in-expedition, but instead always gives a Desert option when selecting the next destination on the World Map.
Remember that Freya is tailored for desert expeditions: her Bedouin's ability to locate oases is rendered useless in other biomes. Unfortunately, even with Freya's stats, exploring deserts still makes for a tough challenge.
How to Unlock
Edit
Complete the game in 3rd place or higher (on Normal difficulty) without attacking any enemy in combat.
Historical Context
Edit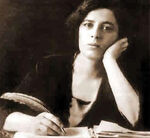 Dame Freya Madeline Stark
(31 January 1893 – 9 May 1993) was a British explorer and travel writer. She wrote more than two dozen books on her travels in the Middle East and Afghanistan, as well as several autobiographical works and essays. She was one of the first non-Arabians to travel through the southern Arabian Deserts. [
Wikipedia
]
Community content is available under
CC-BY-SA
unless otherwise noted.