Historical Context
Edit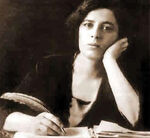 Dame Freya Madeline Stark
(31 January 1893 – 9 May 1993) was a British explorer and travel writer. She wrote more than two dozen books on her travels in the Middle East and Afghanistan, as well as several autobiographical works and essays. She was one of the first non-Arabians to travel through the southern Arabian Deserts.
Freya is the desert version of Frederick Courtney Selous. Her starting companions and equipment makes for a great hunting party. Unfortunately, desert maps have less animals to fight with and are by default the hardest to explore. Even with her perks and help of the Bedouin they are still a tough challenge.
Remember that Freya is tailored for desert environment. She loses all her advantages in different maps.

How to Unlock
Edit
Finish the game (rank 3+, Normal difficulty) without attacking any enemy in combat.