Gameplay
[
]
Alexandra David-Neel is potentially one of the strongest explorers and arguably makes for the easiest gameplay. She is the only character with the Animal Whisperer perk, allowing her to promote animals instead of humanoid companions.
An all-animal party is superior to humanoids in several ways:
However, animal companions generally do not carry perks, and they cannot receive blessings.
How to Unlock
[
]
Complete a game in 3rd place or higher with a dinosaur in your trek (on any difficulty).
Historical Context
[
]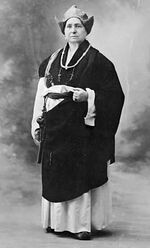 Alexandra David-Néel (24 October 1868 – 8 September 1969), was a Belgian-French explorer, spiritualist, Buddhist, anarchist and writer. She is most known for her 1924 visit to Lhasa, Tibet when it was forbidden to foreigners.
David-Néel wrote over 30 books about Eastern religion, philosophy, and her travels. Her teachings influenced the beat writers Jack Kerouac and Allen Ginsberg, the popularizer of Eastern philosophy Alan Watts, and the esotericist Benjamin Creme.